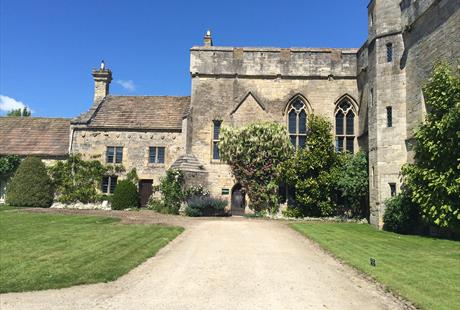 As soon as we've packed up the last of the information sheets and taken in the signs after our last Open Day, the telephone rings off the hook with people asking when we are open! It can be quite embarrassing telling people that it will be another 10 months before they can come round… and so Mop-up Mondays were created.

Mop-up days are not like normal Open Days. They take the form of a guided tour, that starts from the Hall's small car park. One of the Hall's knowledgeable Guides will meet the small group there and begin by explaining the Hall's setting within the landscape – pointing out things such as the original Mediaeval Ripon to Ripley Road, and the Old Quarry where the stone for the house was mined. From there the group will be shown the Courtyard and on in to the house itself.

The tours last approximately an hour and a half, and weather-depending there will be time to walk around the moat afterwards.

The tours run in spring, with the stunning sight of daffodils along the drive and the first green shoots in the Orchard, and in autumn when the harvest is over and there is a hint of winter in the air.
Back to News